Havanese Lhasa Apso Mix
The Havanese is a popular dog breed these days, and due to its high ranking and high demand, breeders are taking an interest. Not only are they breeding more Havanese, but they are also creating more Havanese hybrids with different breeds. One example of a hybrid breed that has emerged recently is the Havanese Lhasa Apso mix.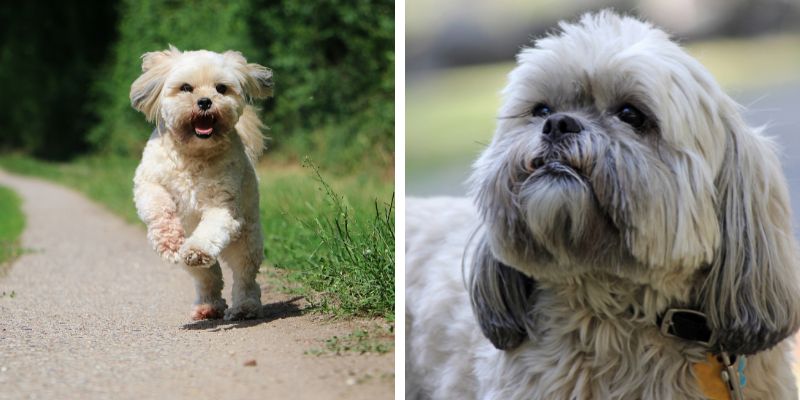 Of course, as the name suggests, a Havanese Lhasa Apso mix is a mix where one parent is a Havanese dog and the other is a Lhasa Apso. Read on to learn more about the Havanese Lhasa Apso mix, from the history of the breed to how it looks and what sort of maintenance it requires of you!
What Is a Havanese Lhasa Apso Mix Called?
A Havanese Lhasa Apso mix is a hybrid dog breed. It has two different breeds as its parents, so it cannot be considered a purebred dog. Of course, as its name suggests, this breed has one parent that is a Havanese and one that is a Lhasa Apso. These two parents are crossbred to create a new dog breed.
It is also important to note that regardless of which breed is which parent, the offspring is still considered a Havanese Lhasa Apso mix. For instance, if the mother is a Havanese or is a Lhasa Apso, it would be the same– as long as there is a parent of each breed involved.
You may have also heard of a Hava-Apso. This is another name for the Havanese Lhasa Apso hybrid– one that is shorter and easier to say or remember!
Hava-Apso Breed History
As the Hava-Apso breed is a hybrid, it does not have a long or involved history. It is newer and cannot trace its roots back as far. However, the two parent breeds– the Havanese and the Lhasa Apso do have their own interesting history! For example, the Havanese is the national dog of Cuba.
Its ancestors were first brought to Cuba by Spanish settlers, and the dog was crossbred until it resembled the Havanese that we are familiar with today. They were bred to be companion dogs and were favoured by wealthy families in Cuba.
Once the Cuban Revolution began, some of these families escaped to the states with their pets– this helped the Havanese to rise in popularity.
The Lhasa Apso is an ancient breed that hails from Tibet. They were originally bred by monks from the Tibetan terrier and other Tibetan herding dogs. The purpose of these dogs was as guardian dogs for the Tibetan monasteries and temples in ancient times.
After the Dalai Lama gave some of the dogs as gifts in 1933, they became much more popular outside of Tibet, too. It was in 1935 that the breed was recognized by the American Kennel Club.
Hava-Apso Breed Appearance
When a breed of dog is a hybrid, meaning they have two different parent breeds, then there can often be a greater variation in characteristics, especially when it comes to appearance.
Some of these traits include the dog's colouring or coat texture. Below, we have rounded up some of the common physical characteristics of the Hava-Apso breed.
Size
Not all breeds differ in size by gender, but the Hava-Apso is one that does. The males of this breed can grow to be between 10 and 12 inches tall, on average. For weight, the male Hava-Apso usually weighs in at between 11 and 15 pounds.
Female Hava-Apsos are a bit smaller, averaging between 9 and 11 inches tall. For weight, they usually weigh between 10 and 13 pounds.
Of course, this can vary and does not have to follow these averages exactly– some Hava-Apsos may be smaller or larger, but these are guidelines for a healthy Hava-Apso.
Coat
If you have seen a Lhasa Apso before, you know that they have a lot of hair! This, being paired with the Havanese, which also has a long coat, creates a very long and dense coat in the offspring of these two parent breeds. The texture of a Hava-Apso's coat is mostly straight. Both the Havanese and Lhasa Apso are hypoallergenic breeds, meaning that the Hava-Apso is a hypoallergenic breed as well. They do not shed, either, which helps with allergies but also with keeping a clean house!
Coloring
A Hava-Apso can come in very many colors and color combinations. These colors are as follows– red, brindle, black, gray, brown, cream, fawn, white, pied, and blue. Of course, blue does not mean the bright blue that you may be picturing from your art classes.
It is more of a silvery gray or gray-blue color, which can make a breed look more unusual. The Hava-Apso really does come in just about every coloration! Its eyes are bright and intelligent, giving that puppy-like spark. The Hava-Apso has brown eyes, like both of its parent breeds, as well as a black nose.
Hava-Apso Breed Personality
Just like the physical traits of a Hava-Apso, the personality traits of the hybrid breed may vary based on the traits of the parent breeds that are passed down to each litter of puppies. It is also important to remember that all of what we will go over below is a guideline.
Dogs have their own unique personalities, just as we humans do. Generally, though, the Hava-Apso is known to be happy-go-lucky and playful. This is a breed that does not like to slow down– they will act and look like a puppy for most of their life.
It is also a more stubborn breed and can be difficult to train, so this is certainly something that may take some more patience. Due to their Lhasa Apso parentage, the Hava-Apso is brave and may take on a much larger person or animal if it thinks that its family is being threatened. After all, they have a history as guardian dogs!
Hava-Apso Breed Maintenance
When it comes to the maintenance of a Hava-Apso, there is both physical and mental maintenance involved. They do have hair that can get matted or tangled, so you should brush them at least three to four times a week.
They should not be bathed and washed too frequently– only when it is truly necessary. You should be sure to also use gentle shampoo and conditioner. The reason for avoiding frequent bathing is that this can cause dry skin in your Hava-Apso.
This breed is a bit of a lazier dog, but it does still need its exercise– you may need to coerce your Hava-Apso to do so. If you do not get your dog the proper exercise, as a small dog, it can easily become overweight. A Hava-Apso needs around 45 minutes of exercise every day and can walk about 7 miles every week.
Frequently Asked Questions
What two breeds make a Lhasa Apso?
The Lhasa Apso is a breed that dates back very, very far– it is considered to be an ancient breed and was crossbred in Tibet.
The two breeds that were bred together to create the breed that we know as the Lhasa Apso today are the Tibetan terrier and other herding-type Tibetan dogs, which are similar to the Tibetan terrier. The Lhasa Apso that we see today were bred from a pair of Lhasa Apsos that were given by the Dalai Lama.
What 2 dogs make a Havanese?
The Havanese is a breed that originates from Cuba, and was bred from the Blanquito– which is now an extinct breed– and dogs in the Bichon family, such as the poodle.
The Havanese is sometimes also referred to as the Havana Silk Dog. Though the Havanese had two different parent breeds, it is now a breed that is bred from both parents who are Havanese.
For this reason, they are not a hybrid breed, but are purebred and are recognized by the American Kennel Club.
What is a good Havanese mix?
The Havanese is a breed that is very popular and now is used to crossbreed with many other breeds of dog to create new hybrids. However, the answer to "what is a good Havanese mix?" is largely dependent upon what a person is looking for and what they want in a pet.
Some of the more popular Havanese hybrids these days include the Havaco, a cocker spaniel and Havanese mix, and the Shih Tzunese, which is a mix between a Shih Tzu and a Havanese.
What is a schnese?
A schnese is the name for one of the many Havanese hybrid breeds out there.
This is a name given to the mix of a Schnauzer and Havanese– one parent must be a Schnauzer, and one ust be Havanese in order to be considered a schnese. They are popular because they are smaller than a large Schnauzer, and have some of the great characteristics of both parent breeds, too!
Depending upon the physical traits that are passed down from each parent, the offspring may resemble the Schnauzer parent or the Havanese parent more closely.