Havapoo Puppies for Sale in the US and Canada – Top Breeders in Both Countries
Is this your Next Dog – The Havapoo?
Last updated on February 24th, 2023 at 07:44 pm
The Havapoo would be an ideal way to describe a teddy bear look-alike. Havapoos are a tiny dog breed that is a cross between a Poodle and a Havanese.
Havanese Mix dogs and Interest in rearing Mixed-doodles have grown dramatically over the years, making it difficult for future pet owners to find Havapoo puppies for sale in the United States.
People of all ages admire this breed because of its intelligence, compassion, and small size. Whether you have a family, pets, or roommates, or are living alone, the Havapoo will quickly adapt to your living situation.
The Havapoo is a relatively new dog breed, having been around since only the '90s.
There has been a surge in interest in Poodle mixes like Goldendoodles and other Doodle breeds from all over the world. The Poodle and Havanese hybrid developed the ideal lap dog, weighing between 7 and 30 lb and having hypoallergenic coats and above-average longevity.
It's not easy to find reputable Havapoo breeders.
Generally speaking, mixed breeds take a lot longer to establish reputable breeding habits and breeders. Often designer breeds are a bit of a cash grab and people will try to cash in.
Dishonest dealers, puppy mills, unfulfilled promises, Havapoos with health difficulties, and other warning signs should all be avoided.
Gateway Havanese can assist you in finding the best Havapoo puppies for sale from reputable breeders in Canada and the USA.
Havapoo Breeders and Havapoo Puppies in the United States and Canada (2023)
Havapoo Puppies for Sale in the USA – Top 6 Breeders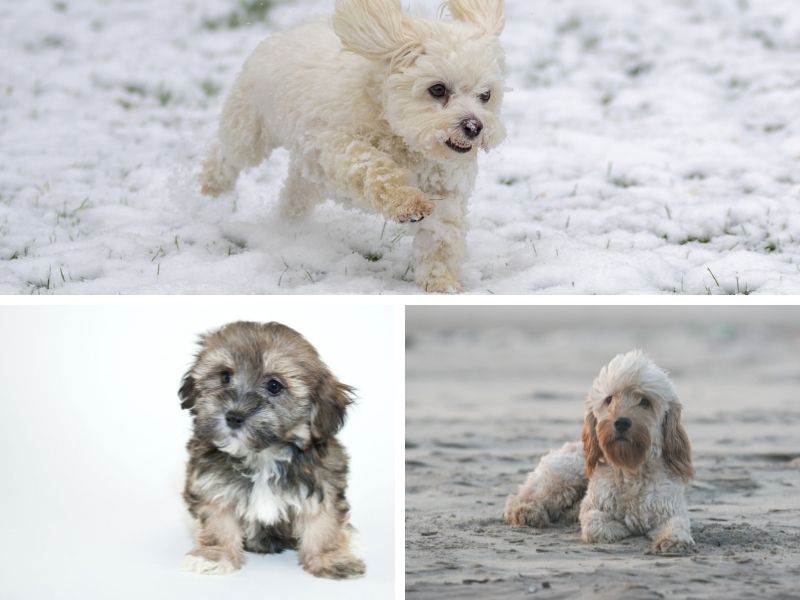 1. River View Puppies
The commitment of the River View Pups staff to providing the best Havapoo puppies is indubitable. You can expect your Havapoo puppy to come home with an up-to-date immunization record and a veterinarian exam if you purchase one from this breeder. If your puppy is getting delivered by air, the Havapoo breeder will provide you with a health certificate that allows them to fly. In addition, you'll receive a care box containing samples of the dog food they've been consuming. The cost of their Havapoo pups for sale fluctuates at the moment. River View Puppies requires that you call or email them for an accurate price quote.
You must fill out an application if you want a Havapoo puppy from this breeder. A $250 non-refundable application fee will be charged (similar to a deposit at most other breeders) to you. About two weeks following the birth of a Havapoo puppy, you will receive information and photographs of the litter. You must deposit a down payment of at least half of the Havapoo puppy's fee if you're satisfied with your potential companion. Once your Havapoo puppy is 8 weeks old, you will send in the remainder of the cash, as well as any additional fees (flight delivery, etc.). You won't be able to choose a Havapoo puppy until they're at least 4 to 6 weeks old during the selecting procedure.
If you don't live close enough to pick up your Havapoo puppy, air shipment will be your best bet if you're buying from River View Puppies. The shipping cost via plane is currently $370, although this can vary depending on the carrier. Keep in mind that your Havapoo puppy will not be delivered until it has reached the age of ten weeks. The purpose of this is to keep track of the puppy's overall health. The Havapoo breeders here have the right to delay shipment of the pet for their betterment, as mentioned on their website.
Havapoo Breeder Information
Address: Burlington, Iowa
Website: River View Puppies
Email: riverviewpuppies@gmail.com
2. Legacy Farmstead
Legacy Farmstead is a local breeder in the Franktown Colorado area. They have a 40-acre farmstead in rural Colorado and breed their puppies at home. They are true animal lovers and you can tell by their great choices. Both of their dams are AKC registered Havanese, their sire is an AKC Miniature Poodle with Champion bloodlines. This is not an average breeder.
Their puppies will be in the 15-pound range and be a darker colour (black, chocolate with some other markings). As you are aware though Havanese colours change as they age, especially after their first haircut.
Of note is the fact that this breeder is a part of a larger family of dog breeders and dog enthusiasts. Usually, any breeder that is a part of a community is better than one that is not. They are a part of the Gooddog.com family.
Havapoo Breeder Information
Breeder – Amy Wakeham
Location – Franktown, CO
Email – Doesn't look like they made their email public, but they have forms on their website. The other option is to DM them on instagram
www.instagram.com/legacyfarmco
Website – www.ourlegacyfarmstead.com/
3. Happy HavaPoos
Happy HavaPoos is another reputable Havapoo breeder on the list. The happiness of their puppies is a top priority for these Havapoo breeders. These miniatures are lively and always cheerful, according to testimonials. Because of how they spoil their puppies with unconditional love and socialization, Happy HavaPoos is one of the greatest Havapoo breeders in the United States. Every day until they go for their forever home, these puppies are played with. Happy HavaPoos are unique in that they do not give their puppies to just anyone. You qualify if you can give your pet the same unconditional affection.
When fully grown, Havapoos is believed to weigh between 10 and 11 pounds. Happy HavaPoos will have new litters every few months. You'll have to contact the website for further information about litter updates. Every Havapoo puppy, like River View Puppies, will be dewormed and vaccinated before being delivered to you.
A Havapoo puppy for sale will set you back $1,800 to adopt. While the price may appear high, these puppies are well-loved and cared for. Because there is such a huge demand for Havapoo puppies, you will need to sign up for the waitlist for upcoming litters. Most respectable Havapoo breeders in the United States have a waiting list.
The deposit amount will be half of the overall price of the puppy once you've picked your Havapoo and reached an agreement with the breeders. The second half will be charged to you when you pick up your Havapoo puppy.
Havapoo Breeder Information
Address: 20103 NE San Rafael St, Fairview, United States
Website: Happy HavaPoos
Telephone: (760) 846-2766
Email: jade@happyhavapoos.com
4. Prides Puppies
Prides Puppies is another distinctive Havapoo breeder to investigate. There are many shady Havapoo breeders out there. As indicated above, but Prides Puppies has a reputation for being trustworthy and knowledgeable. The Havapoo puppies here are raised in the home, in West Michigan and spend most of their time socializing with the breeders. If you're in the neighbourhood, Prides Puppies invites you to come, visit and look at their litters. You can anticipate your Havapoo puppy to be well-cared for, raised in a family environment, and CKC/AKC dual-registered.
If West Michigan is too far away for you, Prides Puppies will transport your chosen companion to you. Contact the breeder for more information on various shipping options for your Havapoo puppy. Meeting you halfway by automobile, depending on the distance, shouldn't be too difficult if it isn't too far. There will be a "Havapoo nanny" for air shipment. The Havapoo nanny will accompany you and your friend to a nearby airport.
Before being delivered to their new owners, all of their Havapoo pups get examined and vet-checked. When you pick up your Havapoo puppy, the breeders will provide you the paperwork. Another thing to remember is that these puppies are feed with good nutrition 4-star food. One piece of wholesome information we enjoy hearing is that these Havapoo breeders sleep with many puppies at night.
Havapoo Breeder Information
Address: West Michigan
Website: Prides Puppies Havapoo
Telephone: Becky Pride (616) 340-5594 | Dwayne Pride (616) 460-4011
Email: beckypride5@gmail.com
5. Windy Acres Puppy Adoptions
Windy Acres Puppy Adoptions, run by a family in Illinois, are the leading Havapoo breeders because of their love and passion for popular Poodle mixes. Randall (spouse) grew up with at least one dog on his property at all times. He started with a Labrador Retriever and went on to raise Goldendoodles and Labradoodles. Laura (wife), on the other hand, grew up on a farm. Over time, they've formed relationships with dog-loving families.
Windy Acres Puppy Adoptions promotes the happiness and well-being of its puppies. The Havapoo puppies are fed high-quality chow designed to improve their health and well-being.
You'll be able to work out a transportation route with Randall to bring your new family home finally, whether you're from Illinois or anyplace else in the United States. The cost of delivery varies depending on your region. You'll need to contact the breeders ahead of time for more details on transportation.
Havapoo Breeder Information
Address: Atwood, IL
Website: Windy Acres Puppies
Telephone: (217) 722-9615
Email: windyacrespuppies@gmail.com
6. Little Joy Pups
Little Joy Pups is the last on our list of the top Havapoo puppies for sale. Before bringing your new pet home, the Havapoo breeders here make sure you know everything there is to know about the dog breed. Their Havapoos are usually bursting with energy and love to play outside. The name says it all: "Little Joy Pups." Before being given to their homes, the puppies will be given immunizations and get proper health care. The puppies come with a one-year health warranty, as well as vet examinations.
Little Joy Pups not only has Havapoo puppies for sale, but they also have Pooton, Poochan, Havachon, Havaton, and Havanese puppies. If you want to see these dog breeds, you'll need to schedule a visit during business hours.
Havapoo Breeder Information
Address: Grand Rapids, MI 49505
Website: Little Joy Pups
Telephone: (616) 780-9820
Email: petitejoiepups@gmail.com
7. Black Creek Doodles
Jordan and Scott Morse are the proud owners of Black Creek Doodles located in Mechanicsville, near Richmond, Virginia (VA).
Havapoo Puppies for Sale in the Canada – Top Breeders
Canada is a much smaller country in terms of the number of people than the USA. Because of this, there are not nearly as many Havapoo breeders and Havapoo puppies available in Canada.
It's also worth noting, much like in the USA, many breeders will be willing to work with you to transport puppies.
1. Les Chiens O-ranch
Name of Breeder – Les Chiens O-Ranch
Location – Ascot Corner, Quebec
Email – info@oranch.qc.ca 
Phone Number – (819) 563-2121
Facebook Page –
Website – oranch.qc.ca/en/puppies-breed/havanese-cross-breed/ 
All of the other breeders on our list in Canada are on Kijiji. Now that doesn't necessarily mean that they are not reputable, but it does mean that you need to do your research. If you look on our Havanese Breeders in New Jersey page you will find a guide on How to find a reputable breeder.
2. Name of Breeder – Donna
Location – Edmonton, AB T6L 5E3
Phone Number – 587 781 0600
3. Name of Breeder – Linda
Location – Shepherd Rd, Kelowna, BC V1X 7A9, Canada
Phone Number – 250- 371-2888
3. Name of Breeder – Scott
Location – Richmond, BC V7B
Phone Number –
Additional Information about Havapoo Puppies
Many people all around the world adore Havapoos. Havapoos is a lovely and lively dog breed that is a cross between the Poodle and the Havanese. The Havapoo is the ideal lap dog because of its small size (8 to 15 inches tall and 7 to 30 pounds). Poovanese, Havanoodle, and Havadoodle are some of their other nicknames.
The non-shedding nature of the Poodle's hypoallergenic coats makes them ideal for allergy sufferers. Havapoos, like humans, have health difficulties as they travel through life.
Keep a lookout for cataracts, hip dysplasia, hypothyroidism, patella luxation, and potential dental concerns as you raise your Havapoo. If you're willing to take on the responsibility of parenting a Havapoo, you may expect a lifetime of loveable memories.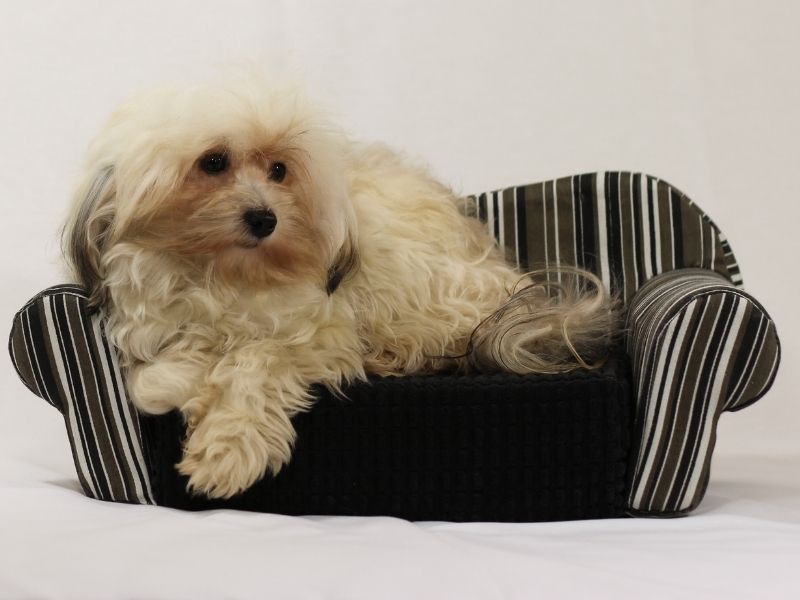 Final Thoughts on Havapoo Puppies for Sale
If these recommended Havapoo breeders are too far away, we propose that you undertake your research when looking for a breeder. To avoid dodgy puppy mills, false promises, and other money-making schemes, locate a Havapoo breeder who truly cares about their babies.
To see the breeding processes and facilities, you should always request an in-person tour. If you can't visit the facilities in person, a video conference is a great way to get to know the breeders, parent dogs, and puppies.
The Complete List of Havapoo Breeders in the USA
Havapoo Breeders List
USA
Havapoo Breeders in Alabama
-No breeder found
Havapoo Breeders in Alaska
-No breeder found
Havapoo Breeders in Arizona
Breeder Number 1
Name of Kennel – Animal Kingdom
Name of Breeder – 
Location – 5000 S Arizona Mills Cir, Tempe, AZ 85282, USA
Email – https://www.animalkingdomaz.com/arizona-mills/ 
Phone Number – 480-831-2877
Facebook Page – https://www.facebook.com/PuppiesnLoveAnimalKingdom 
Website – https://www.animalkingdomaz.com/
Arkansas
-No breeder found
California
-No breeder found
Colorado
Breeder Number 1
Name of Kennel  – Legacy Farmstead
Name of Breeder – Amy Wakeham
Location – 
Email – help@gooddog.com 
Phone Number – 1-855-446-6336 
Facebook Page – https://www.facebook.com/goodbreedercenter 
Website – https://www.gooddog.com/
Connecticut
-No breeder found
Florida
Breeder Number 1
Name of Kennel  – TLC Puppy Love 
Name of Breeder – 
Location – Mustang Haven Ln, Jacksonville, FL 32226
Email – stacy@tlcpuppylove.com
Phone Number – (904) 838-9628
Facebook Page – https://www.facebook.com/TLCpuppyLove/ 
Website – https://tlcpuppylove.com/ 
Breeder Number 2
Name of Kennel  – Havana Doodles
Name of Breeder – 
Location – Southern, Florida
Email – manniestewart@gmail.com 
Phone Number – (305) 987-8668
Facebook Page – https://www.facebook.com/havanadoodles/?ref=page_internal 
Website –
Georgia
Breeder Number 1
Name of Kennel  – Gap Kennels Havapoo Puppies
Name of Breeder – 
Location – Sylvania, Georgia
Email – mellieray@hotmail.com 
Phone Number – (912) 425-9332
Facebook Page –
Website – http://www.gapkennels.com/
Breeder Number 2
Name of Kennel  – Georgia Dog Club 
Name of Breeder – 
Location – 4434 Red Bud Road Calhoun, GA 30701
Email – 
Phone Number – (706) 702-1264 
Facebook Page – https://www.facebook.com/georgiadogclub/ 
Website – https://georgiadogclub.com/ 
Breeder Number 4
Name of Kennel  –
Name of Breeder – Harmony Hounds
Location – Brunswick, Georgia
Email – 
Phone Number – (912) 590-2575
Facebook Page –
Website – www.havapupppy.com
Hawaii
-No breeder found
Idaho
Breeder Number 2
Name of Kennel  – Gotta Hava Havapoo
Name of Breeder – 
Location – 
Email – gottahavahavapoo@gmail.com 
Illinois
Breeder Number 1
Name of Kennel  – Windy acres puppies
Name of Breeder – Randall & Laura Mast
Location – Atwood, IL
Email – windyacrespuppies@gmail.com 
Phone Number – 217-722-9615
Facebook Page – https://www.facebook.com/windyacrespuppies/ 
Website – https://www.windyacrespuppies.com/
Indiana
-No breeder found
Iowa
-No breeder found
Kansas
-No breeder found
Kentucky
-No breeder found
Louisiana
-No breeder found
Maine
-No breeder found
Maryland
Breeder Number 1
Name of Kennel  – Windsor Oak
Name of Breeder – 
Location – 10209 McKinstry Mill Road, New Windsor, MD 21776
Email – 
Phone Number – 301 252 9213
Facebook Page – https://www.facebook.com/WindsorOakPuppies 
Website – https://www.windsoroakfarm.com/contact-us/ 
Massachusetts
-No breeder found
Michigan
Breeder Number 1
Name of Kennel  – Prides Puppies
Name of Breeder – Becky Pride
Location – Grande Rapids, Michigan
Email – beckypride5@gmail.com 
Phone Number – 616-340-5594
Facebook Page –
Website – https://www.pridespoodles.com 
Breeder Number 2
Name of Kennel  – Little Joy Pups
Name of Breeder – 
Location – Grand Rapids, MI 49505
Email – petitejoiepups@gmail.com 
Phone Number – (616) 780-9820
Facebook Page –
Website – https://www.littlejoypups.com/ 
Minnesota
Breeder Number 1
Name of Kennel  – lilypondfamilyfarm
Name of Breeder – 
Location – Randi – Maple Grove, MN
Email – 
Phone Number – 612-877-2545
Facebook Page –
Website – https://lilypondfamilyfarm.com/ 
Mississippi
-No breeder found
Missouri
Breeder Number 4
Name of Kennel  – 
Name of Breeder – 
Location – 24960 McClurg Drive Lebanon, MO 65536
Email – https://midnightacreskennel.com/contact-us/ 
Phone Number – (417) 588-4266ne
Facebook Page –
Website – https://midnightacreskennel.com/ 
Montana
-No breeder found
Nebraska
-No breeder found
Nevada
-No breeder found
New Jersey
Breeder Number 1
Name of Kennel  – Bark Avenue Puppies
Name of Breeder – 
Location – 4W Front St, Red Bank, NJ 07701
Email – 
Phone Number – (732) 925-3173
Facebook Page – https://www.facebook.com/Barkavenuepuppies/ 
Website – https://barkavenuepuppies.com/ 
New York
Breeder Number 1
Name of Kennel  – 
Name of Breeder – Canine Coral
Location – "1845 New York Ave, Huntington Station, NY 11746"
Email – sales@caninecorral.com
Phone Number – 1-631-549-1544
Facebook Page –
Website – https://www.caninecorral.com/
North Carolina
Breeder Number 1
Name of Kennel  – Coastal Havapoo Cavapoo
Name of Breeder – 
Location – 1397 6th Avenue, Supply, NC
Email – Coastalhavapoos1@gmail.com 
Phone Number – 941-661-4087
Facebook Page – https://www.facebook.com/108636834076787 
Website – http://www.coastalhavapoocavapoo.com/ 
Website –
Ohio
Breeder Number 1
Name of Kennel  – Kate's Puppies
Name of Breeder – 
Location – 2990 TR 166 Sugarcreek, Ohio 44681
Email – https://katespuppies.com/contact-us/ 
Phone Number – 330 663-1848
Facebook Page –
Website – katespuppies.com
Breeder Number 2
Name of Kennel  – Sunny Day Puppies
Name of Breeder – Mary
Location – southern Ohio
Email – Mary@SunnyDayPuppies.com 
Phone Number – (740) 379-2701
Facebook Page – https://www.facebook.com/Sunny-Day-Puppies-175721719166305/ 
Website – https://sunnydaypuppies.com/ 
Breeder Number 3
Name of Breeder – Yost and Tina
Location – Navarre, OH 44662
Phone Number – 234 249-9948 
Website – https://www.lancasterpuppies.com/puppy-for-sale/havapoo/murphy-mini 
Name of Breeder – L. Emily
Location – Millersburg, OH 44654
Email – 330-893-0029
Website – https://www.lancasterpuppies.com/puppy-for-sale/havapoo/brittany 
Breeder Number 7
Name of Kennel  – Puppies Online
Name of Breeder – 
Location – 16149 Wooster Rd, Mt Vernon, OH 43050
Email – littlepuppiesonline.com/contact/ 
Phone Number –(740) 501-8774
Facebook Page – https://www.facebook.com/LittlePuppiesOnline/ 
Website – littlepuppiesonline.com/ 
Oklahoma
-No breeder found
Oregon
Breeder Number 1
Name of Kennel – Happy HavaPoos
Name of Breeder – Jade
Location – 20103 NE San Rafael St, Fairview, OR 97024, USA
Email – jade@happyhavapoos.com 
Phone Number – +1 760 846-2766
Facebook Page – https://www.facebook.com/happyhavapoos/ 
Website – http://happyhavapoos.com/ 
Breeder Number 2
Name of Kennel  – 
Name of Breeder – Jade Steel
Location – 20103 NE San Rafael St, Fairview, OR 97024, USA
Email – jade@happyhavapoos.com 
Phone Number – 760-846-2766
Facebook Page – https://www.facebook.com/happyhavapoos/ 
Website – https://www.happyhavapoos.com/ 
Pennsylvania
Breeder Number 1
Name of Kennel  – Ridgewood Kennels II 
Name of Breeder – 
Location – 5015 Lincoln Highway Kinzers, PA 17535
Email – https://ridgewood2.ridgewoodpuppies.com/contact-us/ 
Phone Number – (610) 873-7045
Facebook Page – https://www.facebook.com/RidgewoodKennels2/ 
Website – https://ridgewood2.ridgewoodpuppies.com/contact-us/ 
Breeder Number 10
Name of Kennel  – Infinity Pups
Name of Breeder – 
Location – Mercersburg, PA
Email – https://www.infinitypups.com/members/ 
Phone Number –
Facebook Page – https://www.facebook.com/therealinfinitypups/ 
Website – https://www.infinitypups.com/ 
RhodeIsland
-No breeder found
SouthCarolina
Breeder Number 1
Name of Kennel  – Red Ruff Puppies
Name of Breeder – Sandra
Location – Abbeville, SC 29620
Email – havairie@yahoo.com
Phone Number –864-378-3006 or 864-378-2488
Facebook Page –
Website – http://www.redruffpuppies.com/ 
SouthDakota
-No breeder found
Tennessee
-No breeder found
Texas
Breeder Number 1
Name of Kennel  – Kando Puppies
Name of Breeder – Jo Guthrie
Location – Kando, LLC Canton, TX 75103
Email – ​jothrie@yahoo.com
Phone Number – 1-903-385-5577
Facebook Page – https://www.facebook.com/jothrie 
Website – https://www.kandopuppies.com/ 
Breeder Number 2
Name of Kennel  – 
Name of Breeder – 
Location – 25 NE Interstate 410 Loop San Antonio, TX 78216
Email – https://www.puppylandsanantonio.com/contact/ 
Phone Number – (210) 686-0062
Facebook Page – https://www.puppylandsanantonio.com/breeds/puppies/havapoos 
Website – https://www.puppylandsanantonio.com/ 
Utah
-No breeder found
Vermont
-No breeder found
Virginia
Breeder Number 1
Name of Kennel  – Black Creek Doodles
Name of Breeder – Jordan Morse
Location – Richmond, VA
Email – blackcreekdoodles@gmail.com 
Phone Number –
Facebook Page – https://www.facebook.com/Black-Creek-Doodles-102388551486901/ 
Website – www.blackcreekdoodles.com 
Breeder Number 2
Name of Kennel  – Pets Plus
Name of Breeder – 
Location – 2610 Jefferson Davis Hwy. Stafford, VA 22554
Email – https://petsplusinc.com/contact/ 
Phone Number – (540) 659-6900
Facebook Page – 
Website – https://petsplusinc.com/ 
Breeder Number 3
Name of Kennel  – Petopia
Name of Breeder – 
Location – 7917 Timberlake Rd Lynchburg, Virginia
Email – 
Phone Number – 434-239-7387
Facebook Page – https://www.facebook.com/Petopia-281688081845749 
Website – https://petopiava.com/ 
Washington
Breeder Number 1
Name of Kennel  – Puppyland
Name of Breeder – 
Location – 13103 Meridian Ave E Ste. 104 Puyallup, WA 98373
Email – 
Phone Number – (253) 697-9984
Facebook Page – https://www.facebook.com/Puppyland.WA/ 
Website – https://www.puppylandwa.com/ 
WestVirginia
-No breeder found
Wisconsin
Breeder Number 1
Name of Kennel  – Sweet spot havapoos
Name of Breeder – 
Location – northeastern Wisconsin
Email – tkkiley@gmail.com
Phone Number – (920) 419-7544
Facebook Page – https://www.facebook.com/sweetspothavapoos
Website – https://www.sweetspothavapoos.com/ 
Wyoming
-No breeder found