Can Dogs Go In The Hot Tub?
You may wonder whether or not you can let your dog into the hot tub to relax with you, especially if your pet loves swimming in natural water sources!
Plus, your pet might look like it wants to join in the fun.
For those who like to share as many experiences as they can with their four-legged friend, allowing them into the hot tub might not seem like such a big deal. However, dogs should not be permitted to get into any sort of hot tub or spa pool, because it can be harmful to your pet and to the hot tub itself.
So can dogs go in the hot tub?
No, dogs should not go in the hot tub. It is not an emergency if the dog falls in or somehow ends up in the water, but you need to remove them right away. Having the dog in the hot tub at full temp can be harmful to their bodies, and isn't great for them. They can also be affected by the chemicals, and smaller dogs are more at risk, so keep your Havanese out of the hot tub.
Risks of Letting Your Dog Into the Hot Tub
Below, we will take a look, in detail, at the risks of letting your dog into the hot tub with you. If you allow your pet into the hot tub, it can not only cause harm to your pet, but can damage your hot tub, too. Your dog is a treasured family member and your hot tub is a fairly large investment, so you certainly want to keep both in peak condition! These are two things that are better off when kept separate.
Drowning
This is a worst case scenario, but especially in the case of smaller dogs or weak swimmers, your pet could actually drown in the hot tub– even if it seems like you have only taken your eyes off of it for a moment. Many small dogs will not be able to reach the seat of the hot tub and keep their heads above water at the same time, so will be constantly doggy paddling or treading water to stay above the surface.
Havanese dogs are pretty good swimmers, but the hot tub is a very different environment than a lake, river or pool.
Overheating
If you use hot tubs often, you are surely aware that there are suggested time limits for staying in the hot water, especially for children or older people. These are set to avoid overheating, fatigue, and even fainting. Overheating is not unique to humans. In fact, your dog might overheat, too, if it is sitting in the hot water of a hot tub for too long. This may happen even faster than you would expect, because dogs do not regulate their body temperature in the same way that we humans do. Dogs are covered in fur, so they do not sweat the same way, and while they can sweat through their paw pads, this would not be very effective in a hot tub because your pet;s feet would be under the water.
Chemicals
The chemicals in the water can also be dangerous to your pet. Chemicals such as chlorine are used to keep the water in a hot tub clean and free of contaminations, and can be an irritant to your dog. Skin, eyes, and ears are specifically sensitive parts of your canine, and exposure to chlorine can irritate these areas or dry them out and cause itching. If your dog drinks water when swimming, too, this can be a potentially dangerous situation, as your dog is likely to drink the hot tub water and can become sick from ingesting chlorine.
Clogged Filters
Besides the damage to your pet, your hot tub can also take a beating if your dog is relaxing in there with you. A common occurrence is the clogging of the filters, due to your pet's hair or fur. Think of how much dog hair gets on your floors and furniture every day– that is going straight into the filter! This will require more frequent cleanings and can cause issues if not dealt with properly, too. Some of those issues range from more debris in the pool if the filter is not working properly to broken mechanical parts.
Other Hot Tub Damage
Your dog is probably not going to simply sit back and relax in the hot tub like you are doing. Instead, they will likely be moving around a lot, splashing, or more. All of this could cause damage to the lining of your hot tub, especially because of your pet's nails. Fixing these sorts of damages can be costly, and it can be avoided entirely by simply not letting your dog into the hot tub in the first place.
Instead
There are other ways to include your dog in your relaxation time if you so choose! For instance, if your dog enjoys the water, you could set up a plastic kiddie pool near the hot tub for them to enjoy on their own while you enjoy the hot tub! You could also run the sprinklers for your pet to run through. Both of these options are chlorine free and not too hot that it could harm your pet. If you set them up so that your dog can see you while it plays, it will still feel as if it is being included in your spa experience, and will not suffer from any of the risks outlined above.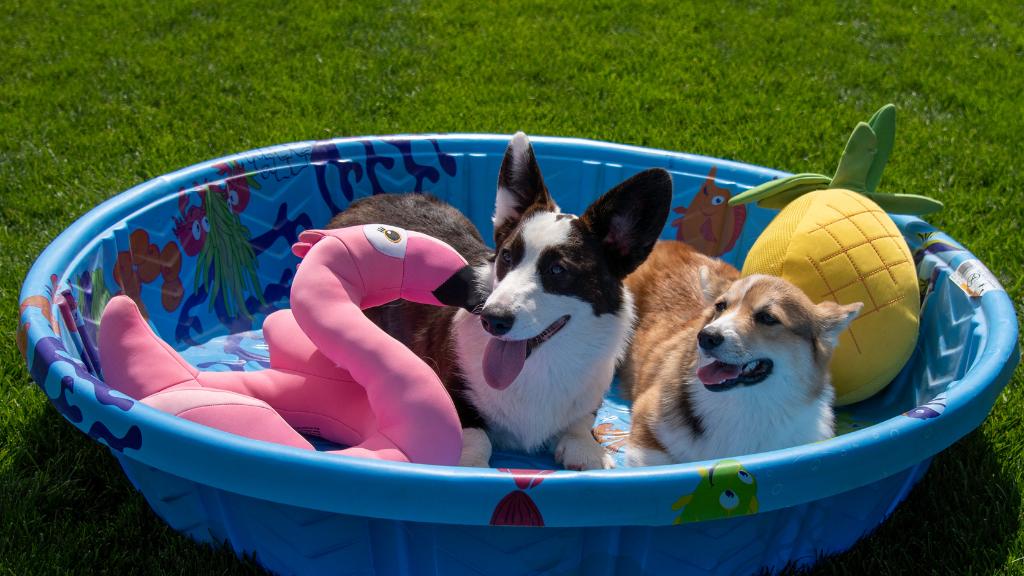 Frequently Asked Questions
Can I put my dog in my hot tub?
It is not a good idea to put your dog in the hot tub, even if your pet really looks like it wants to join in! This is because the chemicals in the hot tub that are used to keep it clean could irritate your pet's skin, eyes, and ears. Also, smaller dogs may drown in a hot tub if not being watched carefully. The heat from a hot tub can also tire out your dog, since even humans can be affected by these very high temps!
Can dogs go in spa pools?
Your dog should not be allowed in a spa pool or a hot tub. Both of these typically implement chemicals like chlorine, which keep the water clean but can harm your pet. It may irritate your dog's skin, eyes, and ears, or can dry out their skin– or a combination of both! Your dog may be disappointed that you will not let it join you in the spa pool, but it is not worth the potential damage and discomfort that can occur later.